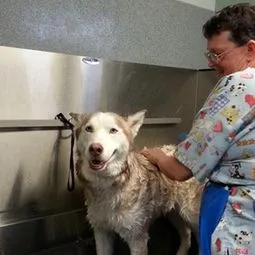 We offer routine bathing for your pet as well as therapeutic bathing and dipping (for skin infections, ringworm and mange). We use soap-free shampoos to prevent stripping of the natural oils from the skin and coat and degradation of topical flea and/or tick products (i.e. Parastar, Frontline, etc). Each bath includes an ear cleaning. Additional services offered include nail trim or dremmel, ear plucking, matt removal, sanitary clips, and a complete brush out of coat.
Body clips (complete shave down of trunk and legs) can provide comfort and relief from the heat for long haired cats and dogs. Occasionally, a pet may require sedation for this procedure, especially if he/she is badly matted.
We also have Allergroom (a hypoallergenic, soap free shampoo), body sprays, and "Furminator" de-shedding brushes available for purchase in our lobby for your at home grooming needs.