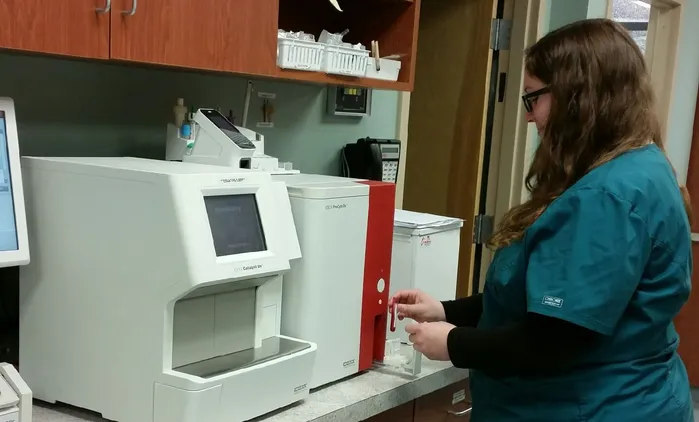 Whether it's a routine health screening, pre-anesthetic screening or an emergency situation, we can run many laboratory tests in house within minutes. These tests include:
Intestinal parasite screen (fecal exam)
Heartworm test
Feline leukemia and FIV test (feline immunodeficiency virus)
Parvo test
Urinalysis (urinary tract infection, crystals, kidney function, etc.)
Skin scrape (screen for mange) & cytology (identify skin infection)
Dermatophyte test (ringworm)
Ear cytology (identify ear infection)
Ear mite test
CBC (analyzes blood for infection, anemia, inflammation, etc.)
Serum chemistries (liver, kidney, and pancreatic enzymes; proteins, blood sugar, etc.)
Electrolytes (sodium, potassium, chloride)
Thyroid testing
Pancreatitis screening test
We also use an outside/specific veterinary reference lab for more extensive and unusual testing. If you have any questions about a particular lab test, please don't hesitate to call the clinic. We will be glad to answer any questions that you may have.