Our philosophy at Double Churches Animal Clinic is quite different than what you may have experienced elsewhere. To put it very simply, we feel that in a majority of cases "Less is More." Our clinic follows the teachings of Dr. Sophia Yin, a behavior specialist in San Francisco, CA. Dr. Yin's book called "Low Stress Handling, Restraint and Behavior Modification of Dogs and Cats", along with its instructional DVD, are the cornerstones for our staff training in the appropriate restraint of our patients.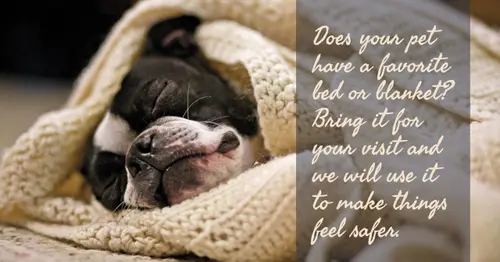 Often times we hear, "No one has ever been able to do that to Fluffy without a muzzle before" or "Spot has never been this happy to go to the vet before". Why is this? We believe it is because we have taken the time to learn ways to make visits to our hospital less stressful for our patients. We have learned handling techniques that help our patients feel less afraid and more secure which makes the entire visit go more smoothly.
It's the little things: Dog Appeasing Pheromone (DAP) diffusers in the dog exam rooms, a dedicated cat exam room with a Feliway diffuser, lots of treats for distraction and counterconditioning, and a calm, confident staff that pass along those good vibes to their patients. These all add up to a visit to our hospital that we hope is as pleasant and fun as possible.
Come by Double Churches Animal Clinic for a visit and see the difference for yourself!
For more information on Dr. Yin and to follow her blog go to: https://drsophiayin.com/about/