The doctors and staff of Double Churches Animal Clinic enjoy giving back to our community and regularly participate in community events.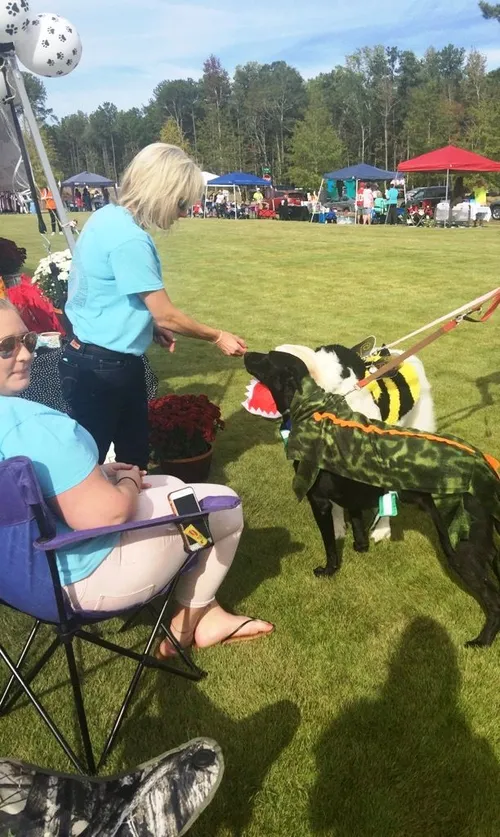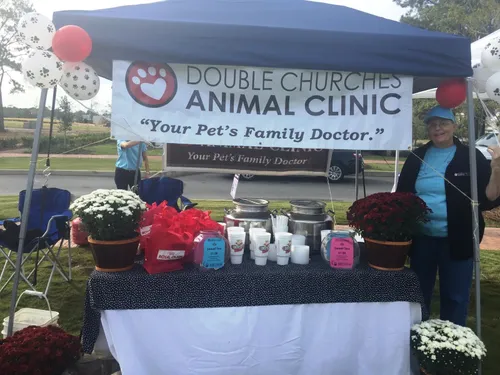 2017 Bark for Life benefiting the American Cancer Society.
---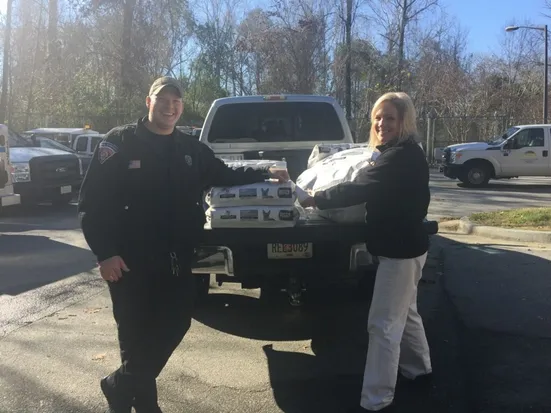 2017 Food drive to benefit our local animal shelters and rescues.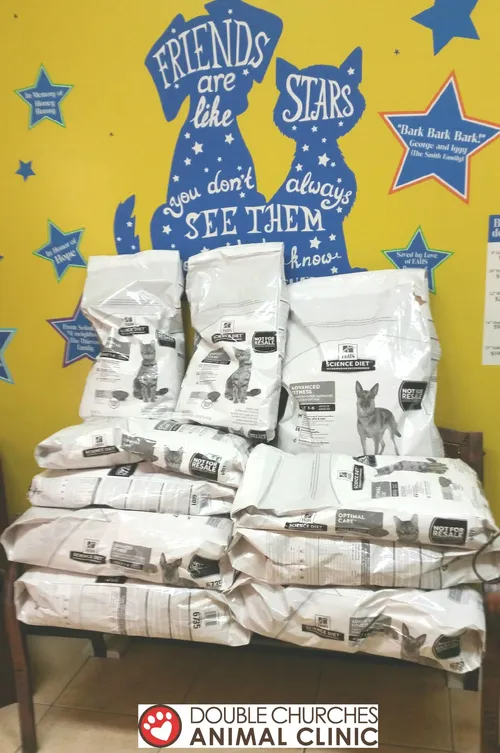 Food donations made to East Alabama Humane Society.
---
Dr. Wylie and other members of the Chattahoochee Valley Veterinary Medical Association at the Fido 5k in Columbus, Georgia. This fun event was to raise money to benefit Harris County Police Department Canines and the War Dog Memorial fundraiser.
---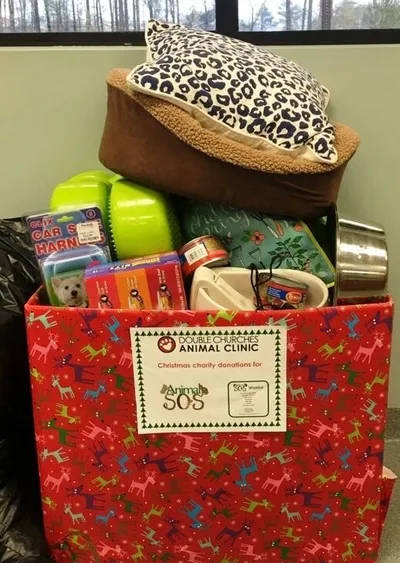 2016 client donations for our Christmas charity benefiting Animal SOS.
---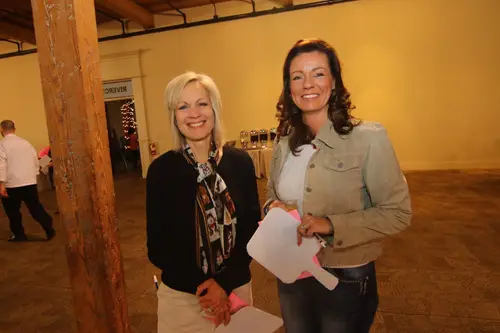 Dr. Wylie and Jennifer at the 2016 Columbus Hospice Purse Party for Pets. Columbus Hospice's Pet Peace of Mind Program helps those in hospice care who are unable to maintain appropriate routine health care and nutrition for their pets because of financial and/or physical disability. The Pet Peace of Mind Program provides Columbus Hospice patients and caregivers the assurance that someone understands the importance of their pets in contributing to their emotional and spiritual well-being.
Double Churches Animal Clinic was proud to be a sponsor for such a wonderful cause!
---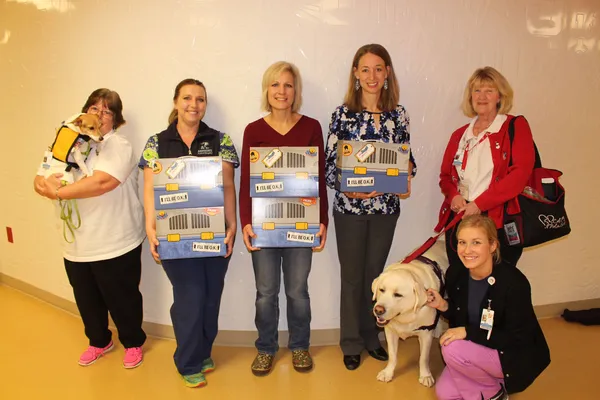 Dr. Wylie and members of the Chattahoochee Valley Veterinary Medical Association visiting children at Columbus Regional Hospital.
In December 2015, the local veterinarians of CVVMA delivered "Josh dogs" (stuffed animals with a book about being in the hospital) to all children that were hospitalized. There were also service dogs on hand that interacted with the children. Their hope was that these stuffed animals and books would help ease any fears that these children may have and brighten their holiday.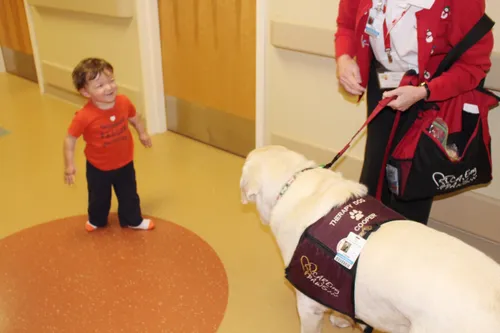 For more information about Josh & Friends, visit the website http://www.joshandfriends.com/.
---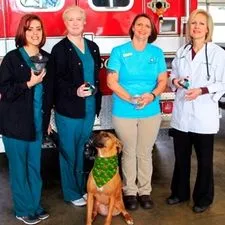 We are proud to announce our recent partnership with the Columbus Fire Department to provide veterinary care for Iggie the Accelerant Detection Canine. Iggie is a yellow lab trained to detect fire accelerants such as gasoline and other materials favored by arsonists. He's one of only two dogs with such training in all of Georgia. We are very pleased that Double Churches Animal Clinic was chosen to keep Iggie healthy and ready for service!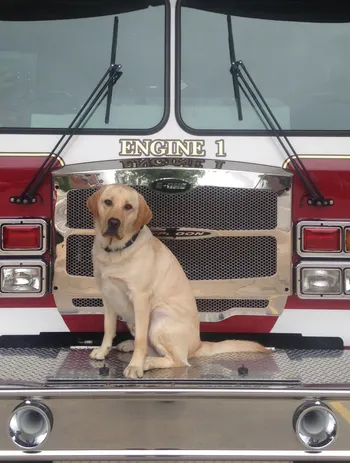 Watch more about this extraordinary canine and the important service he provides:
---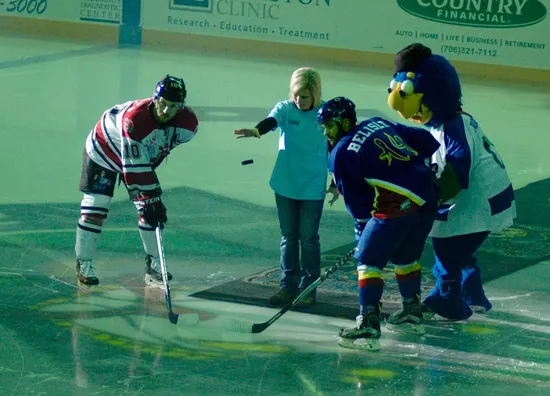 Dr. Wylie dropping the puck at the 2016 Pucks vs. Paws event with the Columbus Cottonmouths hockey team.
---
We also actively participate in the following organizations and events:
Bark for Life (American Cancer Society)
Columbus Hospice
Ronald McDonald House
Career day at local schools
Annual Christmas charity donation to local organizations
Recycling programs
We are also particularly pleased with the results of our Pet Oxygen Mask charity fundraiser. Thanks to the generosity of our clients, we were able to purchase and donate 19 pet oxygen mask kits to our local fire stations. These kits are used to assist pets who have suffered from smoke inhalation.
Click here to read more and watch the video: