We encourage you to discuss cost with us ahead of time and we will gladly provide you with an estimated itemized treatment plan.
1. Payment is expected when services are rendered. In order to focus on our patients' needs, customer service and minimizing costs, we do not bill. Some procedures and hospitalizations may require a deposit.

2. We accept debit cards, credit cards (Visa, Mastercard, Discover, American Express) and cash. All cards must be signed by the owner of the card.

3. When unexpected illness strikes a pet, unexpected expense strikes as well. Double Churches Animal Clinic understands this and participates with the Care Credit program. You can either apply at our hospital, where we'll call in your application over the phone for immediate approval, or apply yourself online at: www.CareCredit.com.

Highlights of the CareCredit program: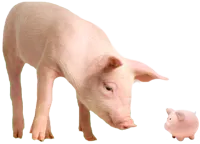 Low Monthly Payments (3% of the Total Balance)
Interest Free For 6 Months
Determine Approval in a Few Minutes
No Annual Fee
4. We also offer Scratchpay as an additional payment option. Please click on the following link to apply! https://scratchpay.com/consume...
Insurance For Your Pets

Another popular option for your family and pet is insurance coverage. Pet insurance is a great way to ensure that you are financially prepared for any unexpected veterinary visits. Pet insurance works by reimbursing you for your vet bills after you pay the clinic. Pets Best Pet Insurance is one of the pet insurance companies we like to recommend, because they have been in business for 10 years and offer comprehensive coverage. We will gladly help you file your pet insurance claim. To learn more, please visit their website: