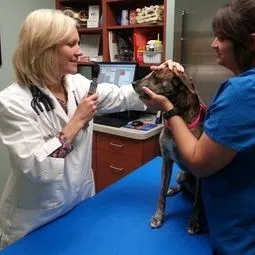 Adult Pets: Adult pets need to be examined yearly (the equivalent of every 7 years in humans). Vaccinations are an important part of this exam and are tailored to your pet's lifestyle and needs. We will also screen for heartworms and intestinal parasites, discuss nutrition and weight management, and monitor for early signs of arthritis and periodontal disease.
Senior and Geriatric Pets: Depending on the breed and species, pets who are seven years or older are generally considered to be senior pets, and those over 10 years old are considered geriatric. (See canine age chart or feline age chart here.) There are a number of medical conditions that commonly occur in older patients that can often be detected on physical examination and lab work. Our doctors may recommend additional diagnostic tests such as:
Blood pressure checks
Radiographs (X-Rays to screen for heart and/or lung disease)
EKG (to examine heart rhythm)
Intraoccular pressure (screen for glaucoma and other eye diseases)
Ultrasound (provides additional information about heart disease and abdominal organs)
Geriatric patients need to be examined every 6 months to identify aging changes as soon as possible. Early diagnosis results in better control of aging conditions, more treatment options, and improved quality of life.